Top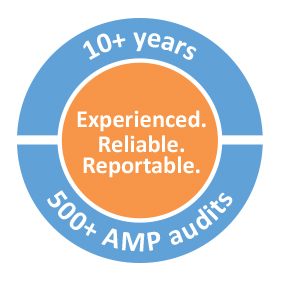 HSAG is a National Committee for Quality Assurance (NCQA)-Licensed Organization and a major market leader in providing Align. Measure. Perform. (AMP) Audit Reviews™, previously known as Value Based Pay for Performance (VBP4P), conducting hundreds of AMP audits since 2003 for self-reporting physician organizations throughout the State of California. Due to an increase in national interest, which is steering more organizations to assess provider performance, it is imperative that organizations have a reliable and experienced audit firm to conduct AMP audits. HSAG's AMP audit services assist physician organizations with reporting valid and reliable AMP performance measure rates. Based on our experience, HSAG offers physician organizations a multitude of best-practice scenarios and advice on how to achieve optimal reportable rates.
Our approach to AMP audits allows us to maximize the opportunity for physician organizations to achieve reportable performance measure rates that are suitable for public reporting and helps physician organizations demonstrate the high quality of care they provide. Each customer is treated on a personal level to help meet the unique needs of that customer. HSAG follows all Integrated Healthcare Association and NCQA guidelines for conducting AMP Audit Reviews and provides guidance throughout the audit process to help ensure physician organizations meet all of the required timelines. Each on-site visit consists of at least one HSAG audit team member that is an NCQA-Certified HEDIS® Compliance Auditor. Having multiple years of experience, our auditors are qualified, professional, and efficient, making the audit experience rewarding and beneficial to customers.
HSAG has an extensive audit team with staff members who have years of AMP auditing experience, positioning it at the forefront of AMP audit services. Our auditing team includes a large number of NCQA-Certified HEDIS Compliance Auditors, as well as additional team members who provide support to the certified auditors in areas such as physician organization operations, AMP reporting, computer programming, data analysis, medical record review, provider credentialing, and performance measurement. Upon completion of each AMP Audit Review, HSAG produces a final audit report that is unique for each physician organization and emphasizes the key audit findings and recommendations for future audits.
AMP Audit Review™ is a trademark of the National Committee for Quality Assurance (NCQA).
HEDIS® is a registered trademark of the National Committee for Quality Assurance (NCQA).
NCQA HEDIS® Compliance Audit™ is a trademark of the National Committee for Quality Assurance (NCQA).